An Attention-Getting Tattoo That Gets Compliments Starts Here
You work hard. Isn't it time to get a tattoo aftercare regiment that works as hard as you? 
Clean Ink is the place to get the all-natural aftercare products you need to ensure your body art stays vibrant throughout the years.
Better And All-Natural Compared To "Mainstream" Products
All the "other" aftercare products contain harsh chemicals, toxins, and petroleum that harm your skin and cause reactions to sensitive skin. Why treat something precious and fragile such as your tattoo with something that can easily cause it to fade? 
That's why we created Clean Ink products with you in mind. You want to keep your body art clear and bright and show them off, even in the sun. And you love it when people say "Let me check out your tattoo…" 
Clean Ink ensures the compliments will keep coming for years to come. And you can use our products with confidence because they won't irritate your skin because everything is all-natural. 
Our motto is if the ingredient doesn't exist in nature, we don't use it!
Isn't that the level of standard you
want in an aftercare tattoo regimen?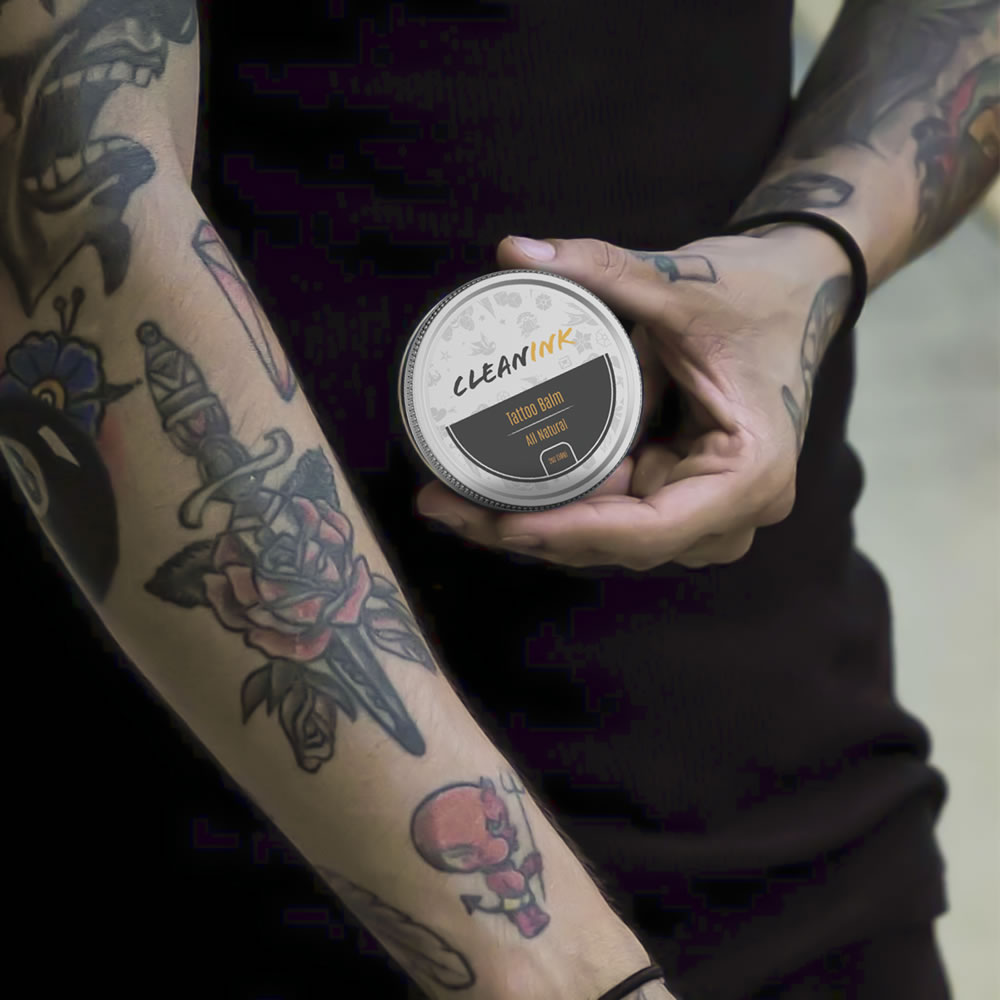 Clean Ink was created out of necessity. We loved expressing ourselves and standing out thanks to our tattoos. We also loved showing them off to our family, friends, and co-workers. 
But we asked the big question: 
Why should we put "mainstream" aftercare products that were chock full of chemicals, toxins, and petroleum that made our skin smell, feel greasy, or even suffocate the skin?  
We thought we deserved better, and you do too. That's why Clean Ink was born - to help you have the best-looking tattoos possible so you can express yourself and be proud of them. 
So don't be stingy when it comes to tattoo aftercare. Your tattoo can last you a lifetime if you take good care of it. That's why our mission is to provide the best tattoo aftercare regimen possible so you can keep expressing your personality and milestones through your body art. 
FAQ
How Does It Work?

Aloe, shea, and other ingredients moisturize your skin and protect it from aging while improve the look and definition of your tattoos.
How Do I Use It?

Apply our balm daily to your tattoos to see and feel results immediately.

Use the repair cleanser after your sessions to help soothe and protect your tattoo while ensuring a effective healing process.
Does It Work On Old And Newly Healed Tattoos?

Old/aged tattoos will work best with our balm tube and tin. This formula is engineered to protect your skin while improving the vibrancy of your ink!

For new tattoos, our repair cleanser will help you heal while cleansing and protecting your skin.